Jazz Beyond Jazz
FIRST IMPRESSIONS ON JAZZ/BLUES/IMPROV RELEASES
Urban Improvisation
Away for a week, upon my return I'm looking at 30 new releases, a surprising number for late August. Of course they've been pouring in all summer — this has been an extraordinary season for the issue of ambitious new projects by young artists and veterans both. Here are some immediate reactions to a handful.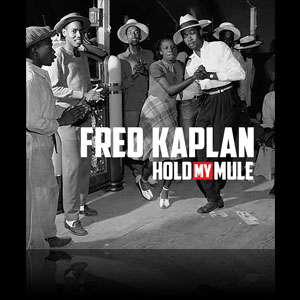 Fred Kaplan, Hold My Mule (Regal Radio Records, available from the artist's website) – Yes, they still cut 'em like they used to, live-n0-overdubbing: R&B drenched instrumentals a la the 1940s – 50s, by Los Angeles-area keyboardist Kaplan with tenor saxophonist Gordon Beadle; guitarist Junior Watson; Richard Innes on drums; David Kaplan, congas and Kedar Roy, bass. Even the mix echos with half-century old vibes, as the band lays down slow drags, shuffles and jump style material that fits somewhere between Erskine Hawkins' "After Hours" and the King Curtis tracks on King Records. The leader's piano work is splashy but articulate — he may play jazzier sometimes, but here doesn't get much more modern than an occasional nods to Count Basie and Professor Longhair's rhumba-boogie rhythms. Beadle adds fine honk, Watson deft figures and brief breaks, Roy keeps steady time and Innes adds a fat back-slap to the 17 tracks (all under 5.08 minutes, and radio friendly). Thanks to my long-ago high school friend Jacki Sackheim (who took some of the cd's session photos for turning me on to this one.
---


BLUES NEWS MAGAZINE (Finland)
September, 2012

Californian keyboardist Fred Kaplan is known for his many top notch studio sessions and for having played in Hollywood Fats Band which now has cult status. His third solo effort is an instrumental CD like its predecessors. Kaplan's first release "Signifyin'" featured piano blues and boogie woogie with Larry Taylor and Richard Innes who were also in Fats' band. Self released "Triage" presented Kaplan's solo playing with a more artistic flavour. Now we see his return to the Los Angeles of his childhood, and especially to Central Avenue which is a sanctuary of rhythm'n'blues, jazz and Afro-American lifestyle. The dominating genres are r'n'b- and swing-themes of the 40s and 50s which he already internalized as a young man in the mid-sixties.

With Watson, Innes, Beadle and Roy in the studio band working in the authentic spirit, Kaplan lays the most intoxicating stuff on the line right at the beginning. Barn Burner, an up-tempo shuffle jump and an even faster boogie woogie BBQ Boogie transport even the most reserved listener right away into the promised West Coast Black Music Shrines and the past decades. Also the saxophone-drenched rhumba-blues Jambalaya Jump, the rocking Ready Freddie, a swinging slow number Mr Downtime and the melodramatically dragging Nubie's Blues all induce sincere pleasure in punters – although this 17-track strong recording made over a two-year period could have done without a few repetitive songs.

However, Kaplan's old interest in Hammond Jazz is merely touched upon, which is a shame, as the moments spent with Souled Out that pays homage to Jimmy Smith / McGriff turned out to be some of the the most memorable ones for Yours Truly.

- Pete Hoppula
---
BLUES & RHYTHM MAGAZINE (England)
September, 2012
FRED KAPLAN: Hold My Mule
Limited Edition release 10037 (62:13)
Barn Burner/ BBQ Boogie/ Bunk's Blues/ Jambalaya Jump/ The Swag/ Partida Walk/ Second Chance Blues/ Bouncin'/ Jalepeno Hop/ Ready Freddie/ Souled Out/ Mr. Downtime/ Tropical Ivories/ Love From Above/ Strollin'/ Nubie's Blues/ Crawlin' To N'Awlins
Its not often we get an all instrumental album to review in these pages, so this is a welcome release from ace pianist Fred Kaplan. Fred is best known as the keyboards man in the original Hollywood Fats Band, a mighty outfit who toured the U.S.A. with their distinctive brand of jump blues, lead by guitarist Michael Mann, aka 'Hollywood Fats'.
Fred picked up on r&b after purchasing 45s from a jukebox operator. His piano playing is influenced by Otis Spann, Floyd Dixon, Sunnyland Slim, Pete Johnson, Professor Longhair, Amos Milburn, Ray Charles, Roosevelt Sykes and pre-war artists such as Leroy Carr and Walter Roland. He is also a big fan of the great Hammond organ players like Jack McDuff, Jimmy Smith, Bill Doggett and Richard Groove Holmes.
Working at the Ash Grove in the 1960s he befriended Lloyd Glenn, the great west coast pianist and he later met Hollywood Fats, playing first as the Headhunters Trio, then the Hollywood Fats Band. Since then Fred has supported many blues and r&b musicians – too many to mention. On disc he has supported William Clarke, James Harman, Smokey Wilson, Junior Watson, Kid Ramos, Phillip Walker, Kim Wilson, Al Blake, the Mannish Boys and is a regular in The Hollywood Blue Flames.
This new self released set features west coast cohorts Junior Watson on guitar, Richard Innes on drums, Gordon 'Sax' Beadle on tenor sax, Kedar Roy on bass and Fred fronting on piano and organ. The seventeen tracks here, all self-penned, are based on the 1940s and 1950s r&b sounds that would have been heard on jukeboxes on Central Avenue, Los Angeles
There are up-tempo jump blues, such as the opener 'Barn Burner' and 'Bouncin'' both very much in the Big Jay McNeely and Hal Singer mode. There are some fine boogies on the Pete Johnson styled 'BBQ Boogie' and 'Ready Freddie', and great blues playing on 'Bunk's Blues' and Nubie's Blues' alongside smooth Lynn Hope styled playing from Beadle on 'Partida Walk'.
There are Longhair styled rumbas such as 'Jambalaya Jump' and Fred's Hammond playing gets an outing on 'The Swag' and we sample his jazzier side on features Jalepeno Hop'. The closer, 'Crawlin'', has a pre-war feel, with booming bass lines a la Big Maceo.
The tracks here were recorded over a two-year period, all cut live, with no over-dubs. Stick this on the deck, read the track titles, imagine them on a 78 – the only thing that's missing is the snap, crackle and pop of the 78rpm disc! For fans of honking sax players, r&b combos such as those of Johnny Otis and pianists like Floyd Dixon, Amos Milburn, Willie Littlefield et al this is worth checking out. Get a copy from
---
Fred Kaplan Discusses the Making of a Masterpiece
"HOLD MY MULE"
Fred Kaplan's brand new self released CD entitled, Hold My Mule is a generous 17 song
helping of originals all written by the great pianist. The entire record was recorded live in the studio. The CD features long time Kaplan collaborators, guitarist Junior Watson and drummer Richard Innes. They are joined by bassist Kedar Roy and exceptionally talented sax man, Gordon Beadle. What makes the greatest blues songs and albums special is a timeless quality. This recording is very special for the same reason. The CD receives my highest recommendation. I could have gone in any number of directions but I dropped a nickel on a calypso imbibed blues number, entitled Tropical Ivories where both Watson and Beadle take simply beautiful solos.

David Mac - www.bluesjunctionproductions.com
---

Various Artists
Junior Watson/Fred Kaplan/Bharath Rajakumar
Best Of Three
Exclusive (2010) 1001


16 tracks, 50 minutes. Highly recommended. As disappointing as it may be, blues discs like this simply don't come along often enough. Why is anyone's guess, but perhaps it's because most artists or bands don't necessarily think "old-school" when it comes to recording new music. With all the technology available and the relative ease of recording a complete CD project with your laptop or desktop computer, why bother finding old-fashioned amps, reel-to-reel tape recorders and microphones, or locating studios or rooms with honest-to-goodness ambiance? What Junior Watson, Fred Kaplan and Bharath Rajakumar accomplish with the Best of Three disc, whether intended or not, is the delivery of a brand new project with natural warmth and a well-honed sense of decades-old style.

Neither Watson nor Kaplan should be strangers to readers since they've both got recording pedigrees anyone would envy. Kaplan has become a staple of lowdown blues and uptown boogie-woogie piano since his early days as part of the now-legendary Hollywood Fats Band. Watson has taken part in countless projects as a guitarist in the blues world following his lengthy stint in Rod Piazza's Chicago Flying Saucer Band (later becoming the Mighty Flyers). While Bharath Rajakumar might not be a name all that familiar to many around these parts, one listen to this disc (or anything else he's done in the past) will assure everyone of his abilities as a potent vocalist and powerful harp player. The band is fleshed out by Kedar Roy on upright bass and the forceful, yet restrained rhythmic underpinning from the inestimable Richard Innes on drums.

Junior Watson offers a pair of swinging instrumentals, Bluelake Boogie and Happy Hoppy, and also tackles three numbers with as a vocalist. Watson's warm, tongue-tied vocal style is showcased well on Let's Get High, My Lil' Baby and Straighten Up Baby. For those unfamiliar with Junior's guitar playing, his zig-zag approach almost defies description, although it can be likened to an almost out-of-control automobile speeding dangerously down a city street. Without hand signals or directionals, Junior's playing swerves left and right, stops almost without reason or brake lights, and then speeds off before you realize what you've witnessed. He's simply one of the finest guitarists in blues, and his garbled vocal delivery is more than a pleasure for the ears.

Fred Kaplan hands in five riveting piano workouts, all nodding to his varied influences which are as deep as Lake Michigan and as lengthy as the California coastline. Ford 150 rumbles along a swift groove while Attention Please rides atop a comfortable walking rhythm, both offering plenty of two-fisted piano expertise. Crawlin' seems to be a nod to Floyd Dixon's laid back style while Made In Maceo is an obvious tip of the skimmer to Big Maceo Merriweather with solid left hand bass and rippling right hand flourishes. Kaplan closes out with Fred's Blues, a lowdown and heartfelt drag. While the heyday of blues piano seems so very distant these days, Kaplan has handed in some seriously enjoyable and refreshing work!

Bharath Rajakumar won't be a stranger to in-the-know blues aficionados, but it's also a safe bet that he's not the most recognized talent here. As a vocalist and harp player, he's studied long and hard listening to numerous masters from the 1940s and '50s. His leadoff track Somebody Else is a stark, slow blues while the thumping Boogie Woogie instrumental is a throwback to Sonny Boy Williamson's 1951 Trumpet catalog, with unamplified harp riding over a bouncing rhythm. Reelin' is a storming, fully-amped Chicago-like shuffle that owes a debt to Big Walter Horton, while Little Walter's Tonight With A Fool sounds almost like a long lost outtake recently found in the vaults. Bharath's other vocal offering is the hoodoo-influenced Cursed warning of bad luck and trouble, but the disc's true diamond could easily be the untitled (and hidden) track laced with Junior Wells-like harp, distorted Pat Hare-inspired guitar from Watson and a solo from Kaplan that might have melted the shellac on his piano.

Yes indeed, new recordings like this are very few and far between, and as infrequent as they may be they truly help us realize just how truly communicative the blues language is to those who have taken the time to study its nuances and understand it fully. There's no fire-scorched guitar, there's no overblown harmonica heroics and there isn't a note from any keyboard newer than a 1960s Farfisa organ. This is the real deal stuff, folks; all done 'live' with old equipment, without overdubs or recording download programs. This is a limited-edition pressing available on a first-come-first-served basis. When they're gone, they're gone. Get yours now by writing to: fredkaplanmusic@gmail.com and make sure to tell Fred each of the three full-length CDs by these featured artists are eagerly awaited.
---
Signifyin'
"What's puzzling is why it's taken years for Kaplan to release a solo challenge. After all, he is a member of the Hollywood Fats Band, and has supported some of the cream of the crop of the Southern California blues scene -- James Harman, William Clarke, Junior Watson, and Robert Lucas. Could it be he shies away from front stage glory, and instead uses his hands to speak on the ivories? Even with the generous solo space granted on this release, he remains humble and prefers to praise his mentor, Lloyd Glenn and the Almighty. No meat by-products and cereal fillers here -- great rib-stickin, ' back-to-basics piano blues are featured here."

~ Char Ham, All Music Guide
"Fred Kaplan, Larry Taylor, and Richard Innes have captured the essence of pared-down-to-the bone piano stride and boogie in this magnificent recording. Kaplan is one of the best blues players today, devoted to a near-forgotten style best remembered best by those old gems from Jack Dupree and the Memphis Slim/Willie Dixon collaborations. There isn't a person on the planet--musical tastes notwithstanding--who would not find something to like in this CD. And most importantly: while this is a Kaplan recording, it only works because of the first-rate back-up from Taylor and Innes. This a gem--one of the best blues piano records of all time. Finally... bare-bone blues piano!"

~ T. J. Walker (Bethlehem, PA)



"Wow! This is the real deal! I love blues piano, and have finally found the single source for a variety of styles and moods. Up to this point, I had been listening to a lot of David Maxwell (Maximum Blues Piano - Tone Cool Records). Maxwell is incredible, but you almost get the feeling that he's trying to impress you more with his "chops" than his soul. Fred Kaplan plays the blues with some mighty tasty licks, as well as the heart and soul of a tried and true bluesman. The disc is produced well also, and you can let yourself feel as if you're right there in that smokey blues club rather than a studio. If you're a real fan of the blues, and appreciate the clean sound of a piano wailing away, then you owe it to yourself to pony up the bucks to listen to the keys played as they were meant to be played."
"The finest blues piano performance and recording..."
"During another life, I lived in Baton Rouge, Louisiana for about three years. On selected weekends, my wife and I would steal away to New Orleans in search of great live music and great food. There is no shortage of either in the French Quarter. During those times, in addition to eating some of the finest food anywhere on the face of this earth, we had the good fortune of enjoying wonderful live performances by world-class musicians in very small, intimate venues. One such performance that is indelibly etched upon my mind occurred one evening with the great Dr. John at the Old Absinthe House on Bourbon Street. That night, the Dr.'s mastery of the piano was so complete, so natural, that the accompanying musicians and the audience were drawn into the music in a way that transcended the physical experience. There was something spiritual, mystical, going on in that room."
"I have never again experienced that sense of connection with a blues piano performance, live or otherwise, until I listened to Fred Kaplan's Signifyin'. "Four Thirty-One A.M. Blues" is a knock-down, drop-dead, masterful example of the blues piano at its absolute best. This is a sit-up-and-take-notice performance of an exceptionally well-written piece of music. "Fred's Blues" builds to a rhythmic crescendo that will shake you down, slap you around and leave you wanting more. I can't begin to describe all the great tracks on this CD. If I did that this review would be far too long because every track is fabulous. Fred Kaplan is a piano virtuoso, a killer on the keys. He is a very special and gifted musician who conveys emotion, soul and spirit with every note. Kaplan is both a classically trained and self-taught pianist who started playing at the tender age of three. His inspiration for the blues came early in life, when at only 16 he began to listen to Bo Diddley, Chuck Berry, Little Richard, Charles Brown and Floyd Dixon.

During the '70s, Kaplan was a member of the Hollywood Fats Band, a group that would become legendary on the active Southern California blues scene." "On Signifyin', Kaplan is supported by first-class musical talent. Hollywood Fats Band alumni Larry Taylor plays a vicious upright bass and Richard Innes on the drums is tight and hard driving. In addition to the outstanding music on this CD, audiophiles get an extra treat. The sonic caliber of this recording is of true audiophile quality. Blue Collar Music states in its liner notes that its musical recordings are, "live to tape.....no gimmicks, no tricks, just good, natural music." Further, they note that "all tracks recorded live and mixed in HI-FI MONO directly to a special Ampex two track machine." I can tell you that in my system, Freddie and the boys were right there with me. The sound could not have been more natural and palpable. On every track, the soundstage was dimensionally accurate with the instruments in very precise placement. I kept turning the volume up higher and higher with every song. This is damn good music!"

"I hope that by now, you have gotten the picture that Signifyin' is the musical equivalent of legal addiction. You need to go out and get this CD so that you too can enjoy the euphoria. This is the finest blues piano performance and recording that I have heard on the CD media."

~ M.L.Jackson